A picture conveys one thousand words … we all know this old bit of wisdom. What's rarely discussed, however, is which one thousand words.
Monday morning's first rays of sunshine found me queuing bleary-eyed at the departure terminal McDonalds in Hong Kong International Airport. I had been awake since 0400 and looked it. At that moment nothing in the world was more important to my frazzled, sand-in-the-gears neurons than acquiring a cup of hot, black coffee.
After placing my order I had a few moments to contemplate my existence (there was quite a horde of us twilight zombie travelers patronizing the Golden Arches) while my order was prepared. It was then that by chance I gazed downwards directly into the eyes of a darling little girl…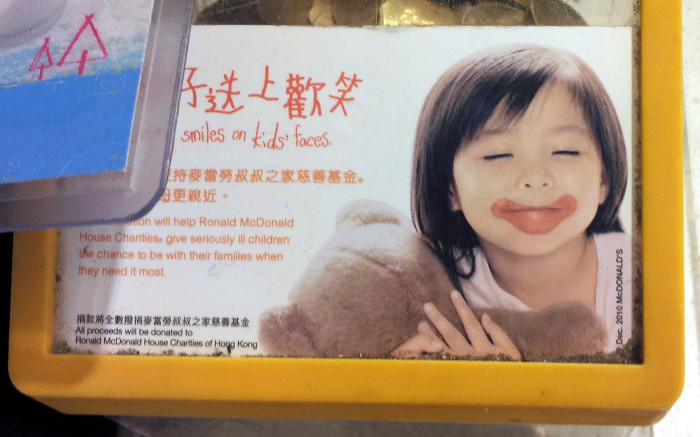 Now, I'm not here to cast aspersions on RMHC. It seems they are a legit humanitarian operation. However, I am here to shame whoever designed this particular advertisement…
…because the thousand words that materialized into my consciousness were decidedly not the thousand words the marketing and advertising design team intended!
Let's look a little more intently at that sweet cherub: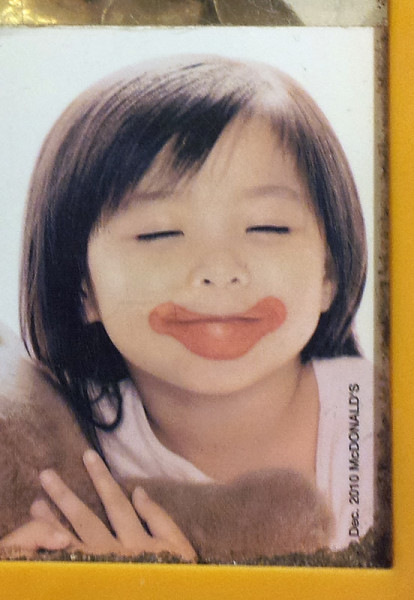 It's been a long time since I've seen Ronald around these parts. He doesn't feature so much in the advertising campaigns anymore. McDonalds propaganda in China focuses on happy teenagers and young twenty-somethings having exhuberant, musical meals at sparkling franchises. I guess that's down in Shanghai? Because it sure as hell isn't what happens in Shenyang.
In Hong Kong I was subjected to an overly long video about a couple holding their wedding reception at a McDonalds! All I could think about was serving BigMacs for the main course and having a hot apple pie wedding cake (ok, actually that second part sounds pretty awesome). How would you even invite people to an event like that?!?
Anyway, the point is that when I looked into that girl's face, her appearance definitely did not call to mind Ronald himself, but instead a rather … different … personality.