It's become a tradition of sorts that each time we visit my parents in Florida over Christmas I set out to add one particular species to my birding life list. Last year Dad took me to check off the Florida Scrub Jay. This year I wanted to see my first Northern Crested Caracara (Caracara cheriway).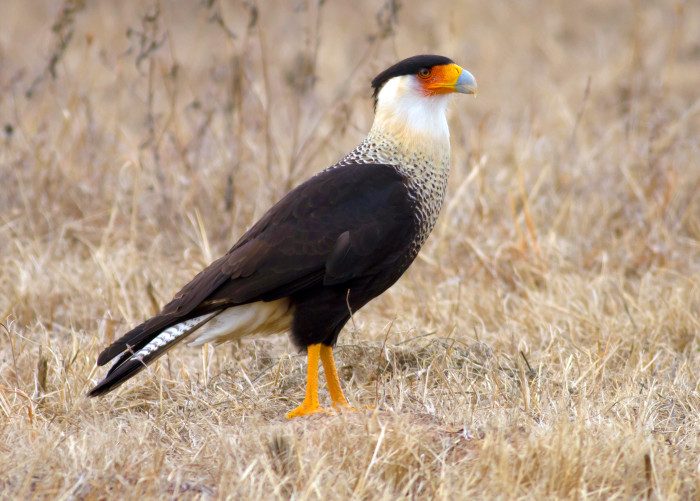 While not a particularly rare bird by Florida standards, the Caracara doesn't regularly occur in the Tampa area and I've never done any serious birding south of Tampa so we'd not yet crossed paths. You can see in the following range map that we're just outside its regular range.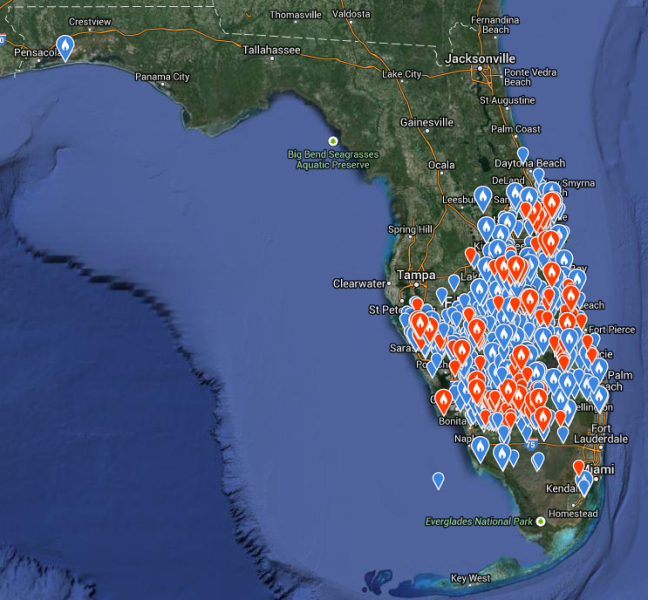 More interestingly, the NCC population in Florida is an isolated fragment from the last ice age. The NCC only lives in oak savanna habitat which used to ring the Gulf of Mexico. Approximately 12,500 years ago due to climate change that habitat began to die out and only a small swatch has survived in central Florida, thereby creating an "island" of isolated Caracaras. The global distribution map below illustrates the Florida population's distance from the primary species range.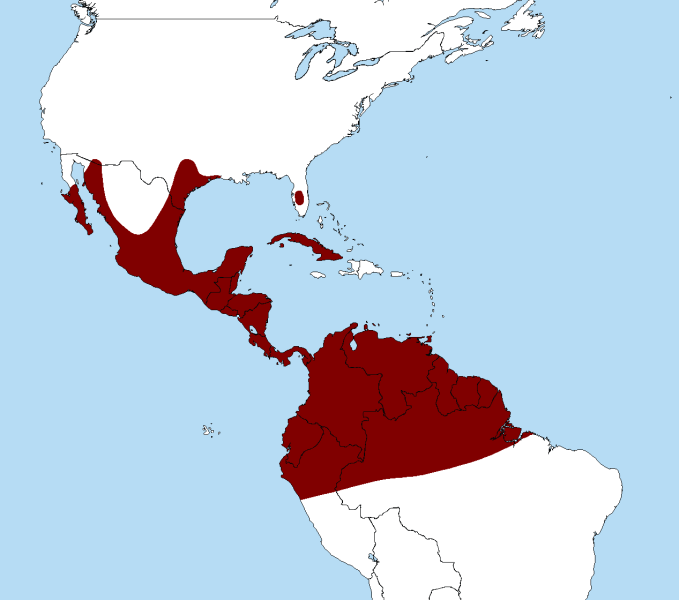 This past Friday Dad and I helped 2nd Brother move into a new apartment in Daytona Beach, which meant we'd be driving back through the northernmost extent of the Caracara's range. There were a handful of 2014 December sightings on eBird in that area, so I was optimistic that we'd get to see one.
Based on the sightings, I chose the Orlando Wetlands Park as our destination. What I didn't bother to check is whether or not the damn park would actually be open. Turns out they're closed from November 15th through January 31st! Why oh why would you close a Florida park during peak holiday tourism? It boggles the mind.
Locked out but unwilling to head back to Tampa just yet, Dad and I drove the short trip down the road to the Tosohatchee Wildlife Management Area.
The site's forest cover is beautiful, but we were surprised by the lack of avian diversity observed during our two hour visit – particularly by the complete absence of ANY duck species. That was just bizarre. Hunting is allowed within the WMA, however, so that may have had something to do with it.
I'd wholeheartedly recommend the Tosohatchee WMA to hikers and botanists, but not to birders. There are too many other better places nearby in that part of Florida.
Ducks aside, while we stood looking out over the St. John's river a lone Caracara came lumbering by on the breeze. As we watched it tried to alight on a power line tower, was immediately mobbed by some angry Fish Crows, and then continued on its way over the marsh into the distance. Mission accomplished! If only all birding could be so easy!
Now, what shall I chase next year?
Tosohatchee WMA's list  of 33 species (lifelist #):
Wood Stork (Mycteria americana)

Anhinga (Anhinga anhinga)

American White Pelican (Pelecanus erythrorhynchos)
Great Blue Heron (Ardea herodias)
Great Egret (Ardea alba)
Snowy Egret (Egretta thula)
Little Blue Heron (Egretta caerulea)
Tricolored Heron (Egretta tricolor)
Cattle Egret (Bubulcus ibis)
White Ibis (Eudocimus albus)
Glossy Ibis (Plegadis falcinellus)
Roseate Spoonbill (Platalea ajaja)
Black Vulture (Coragyps atratus)
Turkey Vulture (Cathartes aura)
Bald Eagle (Haliaeetus leucocephalus)
Red-shouldered Hawk (Buteo lineatus)
Common Gallinule (Gallinula galeata)
Sandhill Crane (Grus canadensis)
Killdeer (Charadrius vociferus)
Greater Yellowlegs (Tringa melanoleuca)
Least Sandpiper (Calidris minutilla)
Mourning Dove (Zenaida macroura)
Belted Kingfisher (Megaceryle alcyon)
Red-bellied Woodpecker (Melanerpes carolinus)
Northern Crested Caracara (Caracara cheriway)

#555

Eastern Phoebe (Sayornis phoebe)
Fish Crow (Corvus ossifragus)
Tree Swallow (Tachycineta bicolor)
American Robin (Turdus migratorius)
Northern Mockingbird (Mimus polyglottos)
Northern Waterthrush (Parkesia noveboracensis)
Palm Warbler (Setophaga palmarum)
Red-winged Blackbird (Agelaius phoeniceus)