I went birding at Huanzidong Reservoir a couple of weeks ago and found the water level way, way down. Hundreds of meters of mudflats were exposed. This attracts all sorts of birdlife, but leaves the hopeful birder no place to hide. Even with a spotting scope, trying to identify sandpipers at 300m totally sucks.
Rubbing salt in the wound, over the summer some local government genius spent who knows how much money building this fucking awesome bird-watching tower: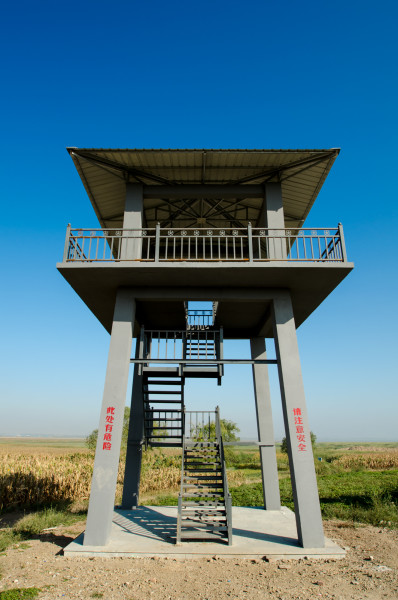 But they forget to put it anywhere remotely near the reservoir so now it's a fucking awesome corn-watching tower.
Looking ahead to the upcoming arrival of the Siberian Cranes, I decided to take drastic action: I would build a duck blind.
Planning
Before undertaking any engineering project you should develop a clear and detailed plan. Here's mine: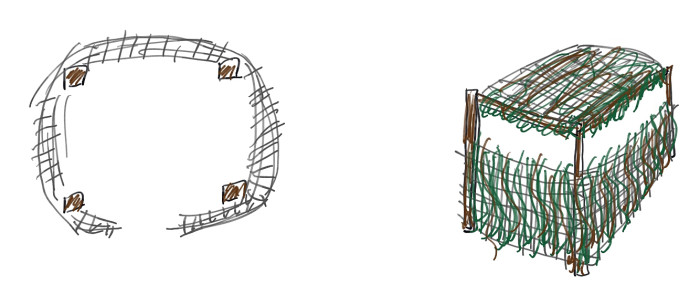 I was going to continue drawing awesome schematics from additional angles but Huilin decided he needed to use my tablet to watch cartoons so the engineering session ended early.
Materials
One of the reasons the engineering schematics for my duck blind were so detailed was that Drew's Journal is operating on a very limited budget. For reasons that will become clear later, my target materials cost was only $50.
Friday afternoon I dropped by a mom & pop hardware store on the way home (Home Depot is out of business) and bought:
20m of wooden 2x1s cut into two meter segments ($5)
15m of plastic-coated wire mesh ($30)
1 Cup o' Nails ($1)
Total: $36
My favorite was the cup o' nails. I told the lady I needed a box of nails and she handed me an empty plastic cup and pointed at 4 barrels full of nails: "it's by weight, have at it junior."
I've never bought nails by weight, but sure enough when I brought my assortment to the counter she dutifully placed the cup onto an electronic vegetable scale. Did she tare the cup? Hell no, you want the cup you pay for the cup (by weight) too!
Building the Blind
Upon arriving at the reservoir Sunday morning I was shocked to discover that the water's edge had receded another 300m since my visit two weeks ago.
I briefly considered abandoning the duck blind plan altogether, given how quickly the contours of the reservoir were changing. BUT THAT'S NO FUN. So I drove the SUV out onto the mudflats as far as I could without getting stuck, and then gathered up my building supplies and trudged across the mud towards the water until I was in danger of sinking down into the depths of the earth.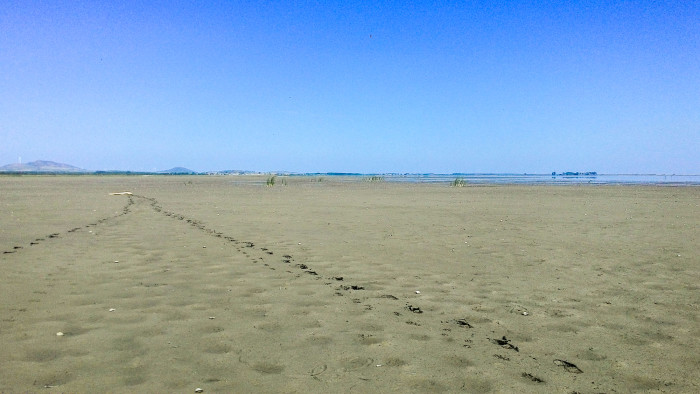 Even with heavy-duty hiking boots and comically large feet, by the end there I was sinking down to my ankle-bones. During the construction of the blind we slogged back and forth through that mud at least 20 times. It got pretty tiring but at least I had a buddy!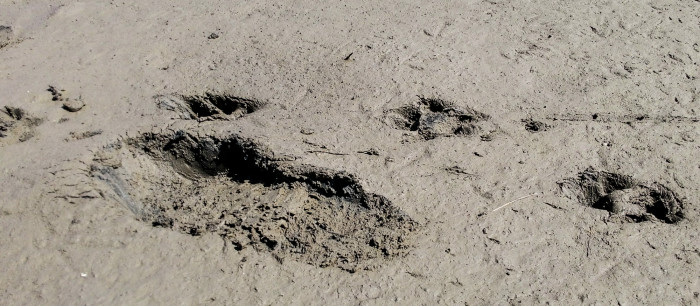 With the lumber in place it was time to erect the four poles. First, I carefully referred back to my engineering schematic.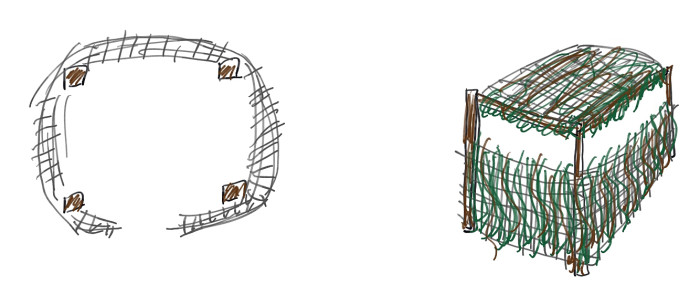 Then I drove each pole into the mud with a plastic mallet. You must be extra vigilant during this step because you are literally establishing the framework for all your efforts to come. It is paramount that you do an excellent job and get everything aligned properly. The success of your entire project depends on it.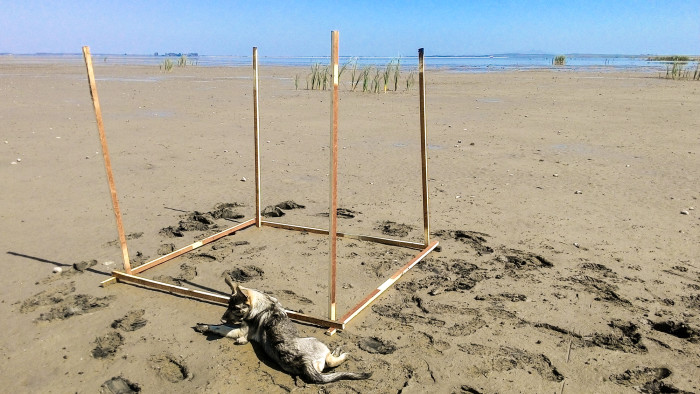 Once I was satisfied with my poles it was time to nail on the cross-pieces. Again, you need to take your time and make sure everything lines up properly – your blind's structural integrity is at stake!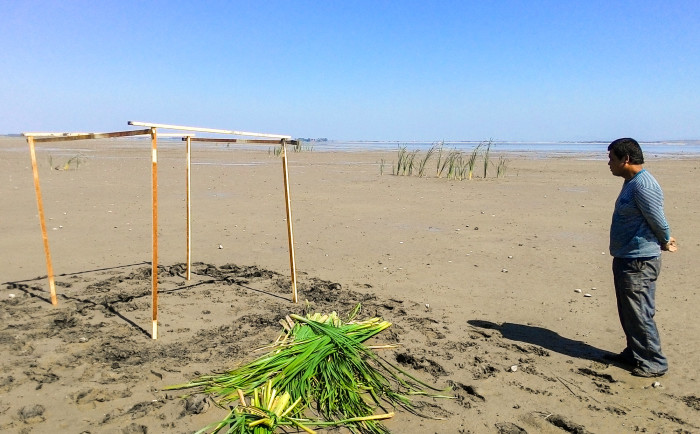 Now that the cross-pieces are up the frame really looks great! We can see our idea taking shape before our very eyes!
That gentle fellow pictured above is a local villager who decided to help me gather bullrushes for the blind after hearing my description of the project. He brought all those rushes you see on the ground without even being asked. Chinese people are not environmentally savvy, but if you patiently explain and educate you can expand their awareness and inspire them to begin caring for the environment around them!
Isn't that great? You can really see how he's imagining what the blind will look like finished, marveling at the idea, and beginning to really develop a passion for conservation! The duck blind wasn't even finished and it was already inspiring the local people!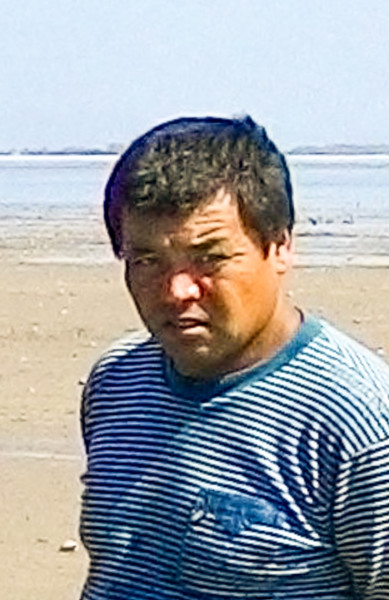 Our nameless friend left without speaking soon after that last picture was taken. I guess he had something important to do. I'm sure we'll see him next time!
Now that the wooden framework was securely in place, it was time to install the wire fencing. The blind's posts were roughly 2 meters apart, so I cut a 10 meter long strip of wire fencing to allow for a rounded shape and leave a bit of overlap at the entrance. Of course this is all clearly shown on our blueprint: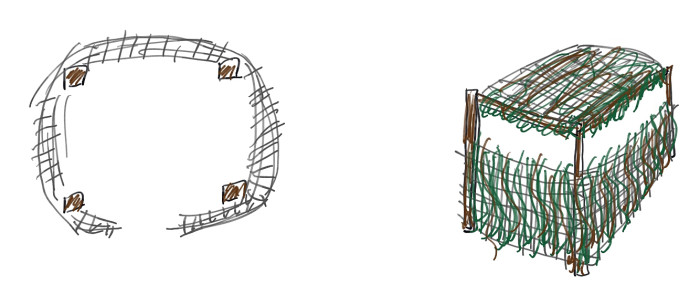 I also cut a 2.5m length of mesh to place over the top of the structure. This allows us to layer bullrushes on the roof. Not only does a bullrush roof protect you from the hot sun, it also conceals you against incoming flocks of waterfowl during migration – very important.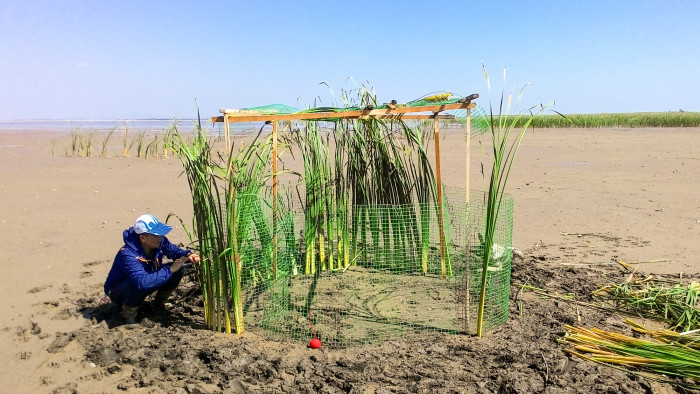 While I was doing all the structural assembly, my new friend Mr. Bai was cutting lots of bullrushes. With the wire mesh in place it was time to start installing the rushes. First we would stick them down into the soft mud, then we would lash them to the mesh with a bit of string. I originally planned on weaving rushes through the mesh itself, but this was quickly revealed to be way too damn tedious. With larger mesh holes it would have worked nicely though.
After a few more rounds of bullrush cutting we were finished!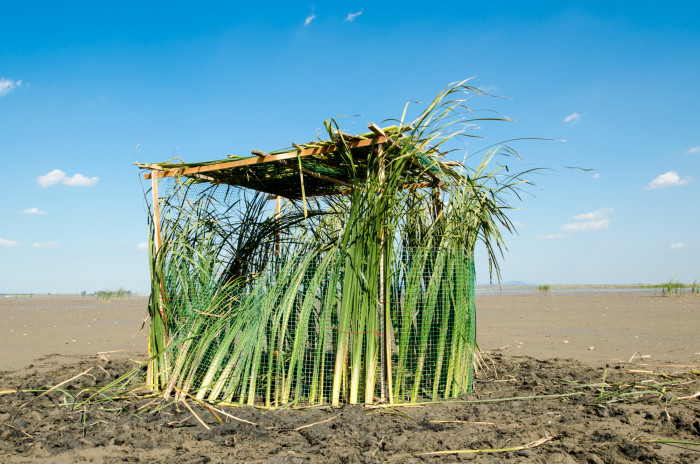 It's a sitting hide rather than a standing one. There's room for two people to sit side by side, or one person and their dog!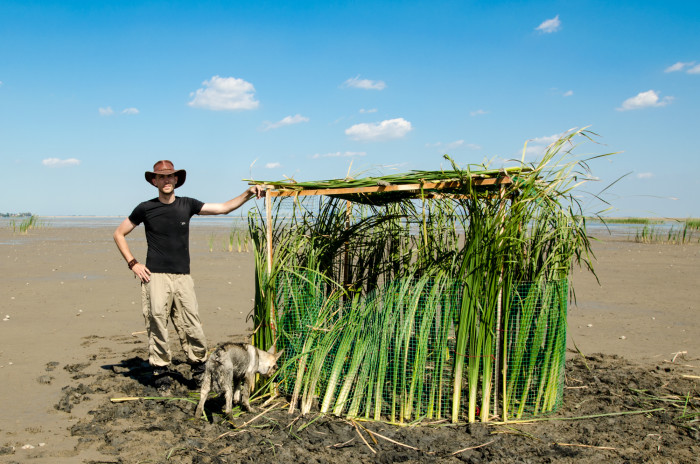 When we arrived early in the morning the shorebirds were feeding only 25 meters away from where I built the hide. Hopefully the water won't recede too much over the next few weeks. In any case, the angle of the hide allows you to see down the marsh line, so even if the birds are far away you'll have an unobstructed view.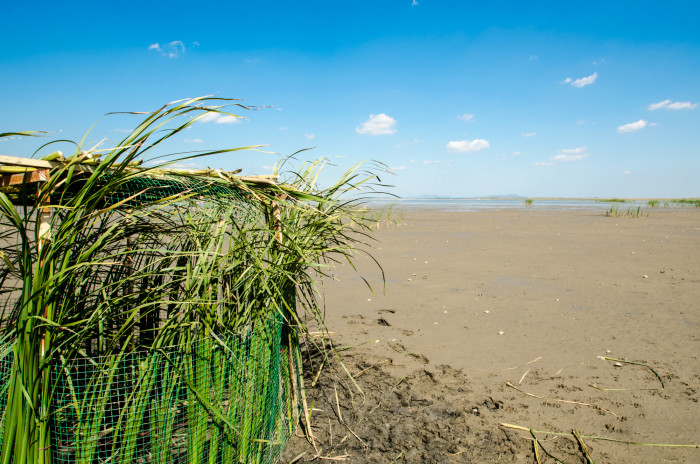 On the way out I took a picture with Wang Zhenyou, the head of the local Wildlife Protection Association.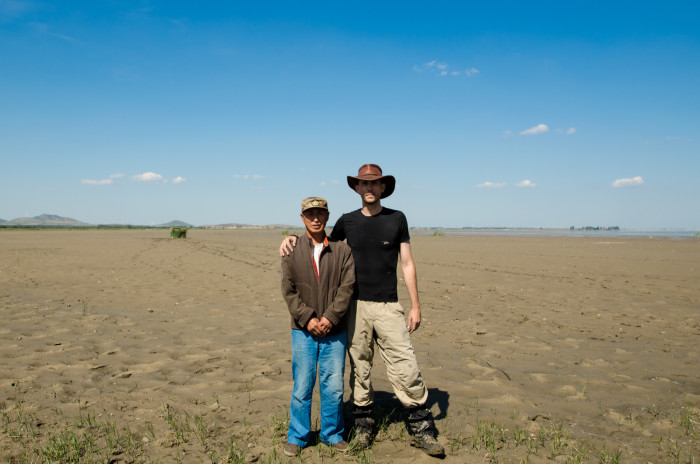 He invited me to join the team last time I visited Huanzidong and of course I accepted! On this visit he happily informed me that the Shenyang government had agreed to allow a foreigner to join. I'm probably on 3,000 different watch lists by this point!
Wrapping Up
Labors complete, we all sat on the tailgate of the SUV in the shade and chatted a bit about the future. The Siberian Cranes should start arriving in two weeks. The reservoir may run dry this winter. And some locals may tear down my blind before I even get to use it once in order to sell the wooden posts and wire mesh for a few bucks. Now you know why I was keeping the costs as low as possible! Sure, it would be easy and efficient to create a PBC pipe framework, but it'd be stolen in less than 24 hours! We're running two experiments with this blind – we'll learn more about the avifauna, and we'll learn more about the local people.
It'll be 2 weeks before I can get back to Huanzidong. Hopefully the blind, and the birds, will still be there when I return!