Everyone in China is very proud of their long history and enduring civilization. Fortunately for the rest of us younger civilizations, despite 5,000 years of civilizing themselves they still have a tremendous amount of bad habits… like dumping trash wherever the fuck they feel like it.
This is also common in Florida where most any seldom-used country road is going to fall prey to trash-holes, as I like to think of them. Taking your waste and piling it up on someone else's property is a clear, effective expression of your contempt for the basic principles of society, you trash-hole.
I spotted this pile of refuse on the side of the road near our house the other day. What made it DJ-worthy was the way the local authorities had decided to "handle" the matter. Behold the Banner of Shame: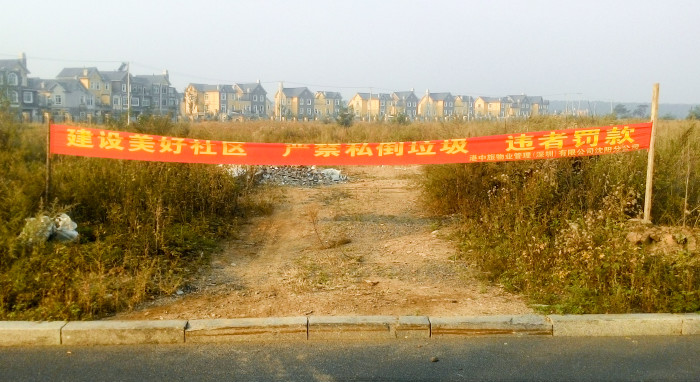 Does anyone really ever get fined? I doubt it. There simply isn't enough of a surveillance presence to catch someone determined to drop their shit off in your lot.
Worth examining is the second phrase: 严禁私倒垃圾。I translated it as Trash Dumping Strictly Prohibited above, but the literal translation is Private Dumping Prohibited. Presumably public dumping is ok? It's likely the intent is unlicensed disposal is illegal, but the pursuit of brevity leaves the banner phrasing strange.
Lastly, because this is China and you are culturally obligated to slap your company's name on anything and everything (remember the funeral stickers?), in the banner's bottom right corner we have: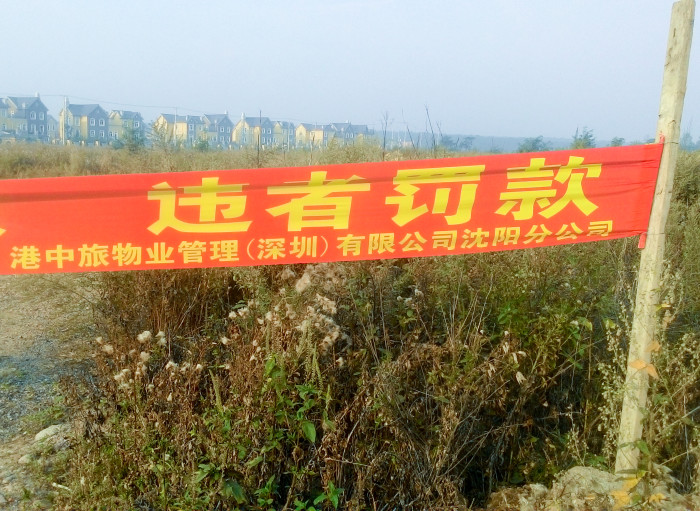 Personally speaking, if I owned a large plot of undeveloped land, I would prefer the property management company I retained to protect it erect fencing and promptly clean up any illegal waste rather than slap a self-promoting, ineffectual banner across the access point… but that's just me!