Fishing is part of being a Heath. I had a rod in my hands as soon as I could ask for one. But where we live in China the natural environmental condition is very poor. There are artificial fishing ponds, but sitting for hours in the sun hoping for a bite is no way to introduce a child to fishing. There will be plenty of opportunity to disappoint yourself when you're older!
So these few years I had not made any great effort to take Huilin fishing. Eventually, however, he began to express an interest and so I asked my cousin-in-law Dandan to take us out when he had time. Dandan is a few years younger than me and an accomplished fisherman in the northeast Chinese style. The fish one typically catches here would be better classified as "bait" in America – they are truly that small.
But a fish is a fish, and fishing is fishing, and my son Huilin wanted to go fishing. So with thanks in our hearts, one brisk afternoon in October we piled into a borrowed minivan and drove out into the countryside.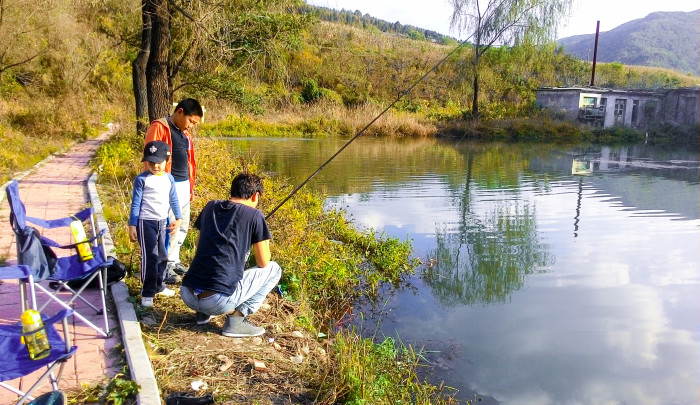 Along with Dandan came Huilin's cousin ErWan and his father DaPeng. We were a happy fivesome! Our destination was a few cascading pools created by the skillful manipulation of a mountain stream. The water was relatively clean and the owner, a friend of Uncle DaPeng's, had stocked the waters with fish.
While Dandan prepared the tackle I kept an eye on the two rambunctious children. My son does not yet know how to swim and has a passion for throwing stones into the water – this is a dangerous combination!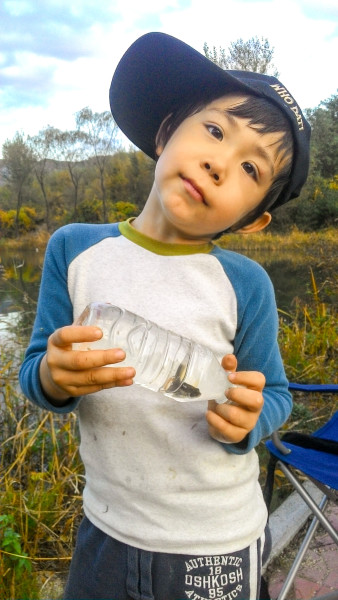 After what seemed like ages, Uncle DaPeng finally hooked a fingerling. The boys excitedly dropped it into an empty PET bottle for observation. The pressure was now fully on my shoulders to produce a fish for Huilin!
I was the last participant to land my minnow, but the smile on Huilin's face made all the hardwork worth it!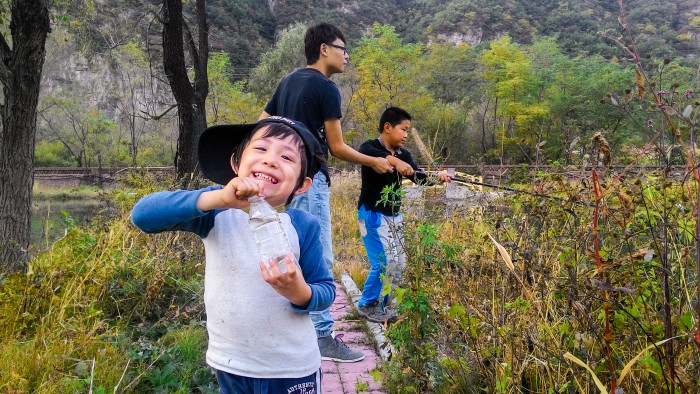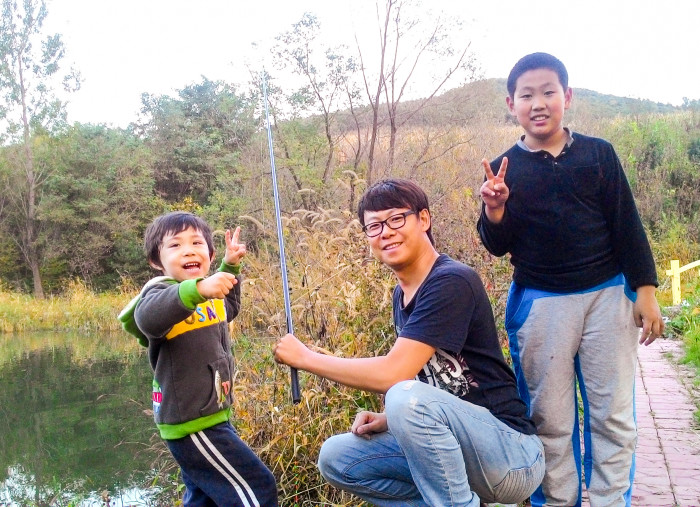 For a four year old, it was enough. He now has the fishing bug. We will nurture and develop this passion so that he may one day take his place among the Heath fishing pantheon! 😉