As Wayne Gretzky once said:
You miss 100% of the shots you don't take.
The same applies to birdwatching, of course. You miss 100% of the birds you don't get out to see. New Years Day 2016 was calm, clear, and bitingly cold. The weather report said -9C | 15F but you can always knock a few more degrees off for my side of town which doesn't suffer from the Urban Heat Island effect.
Rather than do the sane thing and sleep-in on such a frigid morning, I made a thermos of coffee and staggered out of the house and into the SUV with loyal Spider to pop down to the riverbank for some scoping.
There's very little open water remaining this late in winter, and once the river ices up completely the ducks will move on. This was one of my last chances to look for lost or (very) late migrants. My efforts were not to be in vain!
0700 downstream from the Bird Island dam Spider and I found only a small ribbon of open water. It was jam-packed with Ruddy Shelducks and Mallards, but nothing else of note. Twenty minutes of standing around led to numb toes and no new avian arrivals, so Spider and I retreated to the warmth of the SUV.
Unwilling to return to the house so quickly after having mustered so much will to actually get my ass out of bed and into the cold, I decided to head upstream along the river in search of more open water.
Near the neighboring town of Fushun at a bulge in the river I found the last large expanse of open water with an enormous flock of ducks. Spider nosed about in the snowy brush while I erected the spotting scope on the bank and began sweeping the crowded water's surface for species identification.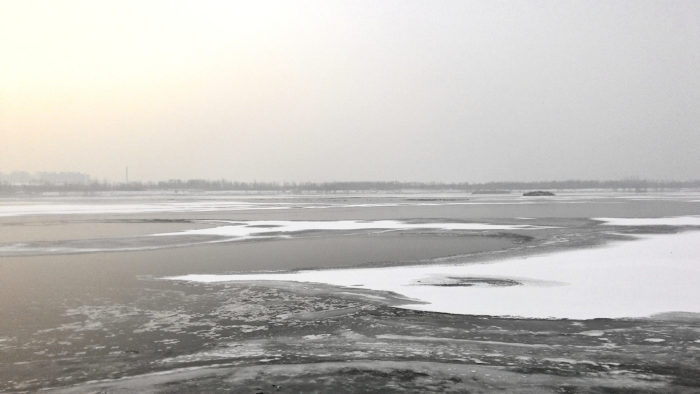 I'd estimated around 750 Mallards and a further 150 Eastern Spot-billed Ducks and was in the process of walking back up to the SUV when all hell broke loose.
I turned around to see an ominous black shape gliding lazily above the massive flock down on the water. At the sight of this interloper the mallards were whipped into an absolute frenzy. They didn't want to stay down on the water, but knew instinctively that trying to take flight would expose them to certain death. With no other options, they paddled and flapped around on the surface in anxious chaos.
At a run I returned back down to the bank and set up my tripod and scope. As I watched with eye crammed tightly against eyepiece, the beast made two slow, deliberate passes over the panicking flock and then settled down onto an ice sheet a fair distance behind them. He was immediately mobbed by carrion crows, but didn't seem the least bit perturbed by their angry objections to his presence.
A quick flip through my field guide confirmed all key field markings had been observed: white tail, heavy beak, brownish head, fingered wings, wing angle during flight, and flight wingbeat pattern. Undoubtedly, standing confidently on the ice several hundred meters away was my first White-tailed Sea Eagle (Haliaeetus albicilla)!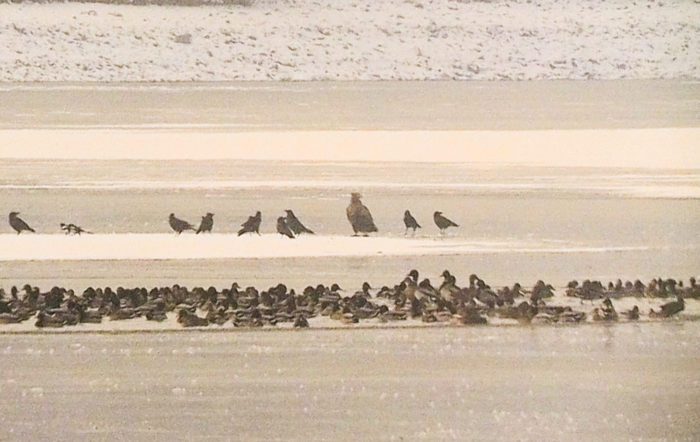 At the sight of my first ever White-tailed Sea Eagle, and my first ever eagle of any sort in Asia, I tell you now without any shame that I did an enthusiastic and elaborate happy dance right there on the frozen riverbank!
Basically that, but in a parka. Spider was both excited and extremely confused!
The White-tailed Sea Eagle is a magnificent bird. Here are several close-up photos by others that you may better appreciate what had appeared before me on this frozen morning: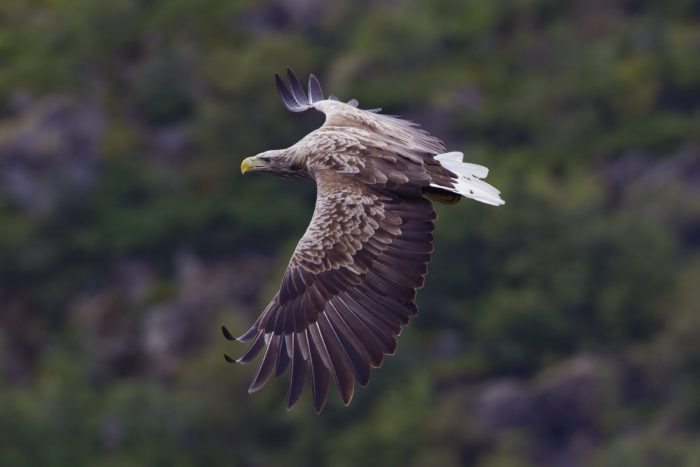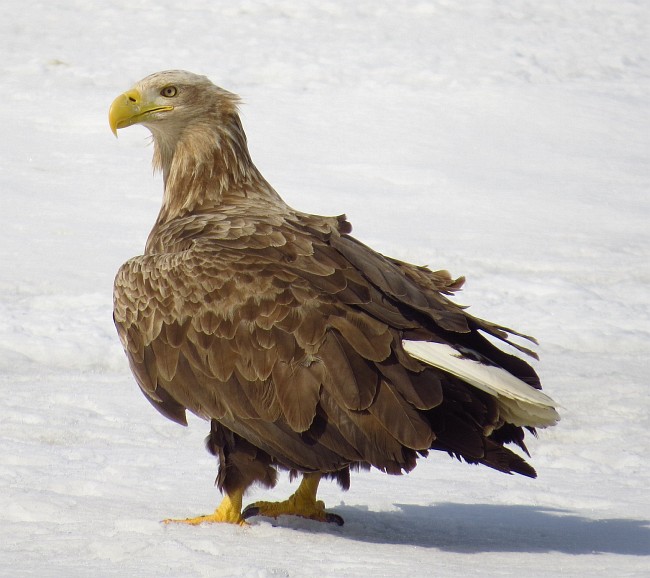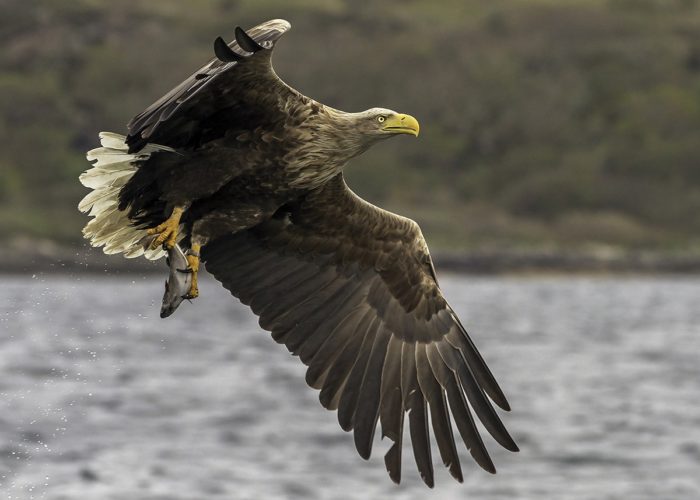 Wikipedia gives its range as covering all of Liaoning, but due to the massive habitat loss in this part of China I doubt the population is more than a dozen individuals across the entire province.
I never expected to see one, and I certainly don't expect to ever see one again, but the moment will never be forgotten!
Oftentimes all you see are mallards, but sometimes you get a sea eagle! Get out of bed and do something awesome, you can sleep when you're dead! 🙂