My son Huilin loves Space, Rockets, and everything having to do with Space and Rockets. He's logged many hours on my lap playing Kerbal Space Program. He's been to Cape Canaveral and toured the Kennedy Space Center. He's been to Washington, D.C. and toured the Smithsonian Air & Space Museum. In short, he's addicted.
So it was only natural that this past Christmas waiting under the tree, having been carefully acquired from the finest Chinese suppliers by an ever-thoughtful Santa Claus, was a model rocket kit.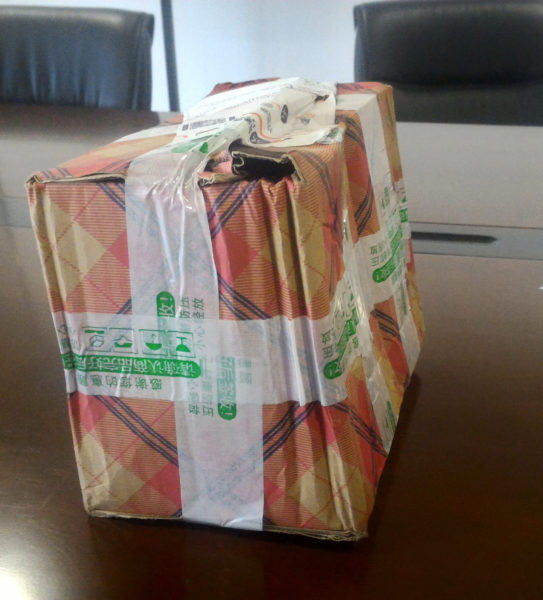 One of my earliest memories is of my father meticulously applying decals to the gray cardboard fuselage of a beautiful new ESTES rocket.
One of my somewhat later memories is of watching through tears in my eyes as a beautiful new ESTES rocket with decals meticulously applied to its gray cardboard fuselage slowly parachuted into the middle of a large water retention pond, never to be seen again.
My point obviously is – model rocketry is awesome!
To get Huilin properly started on the path to the stars, I loaded up on the following goodies:
1 x small rocket
1 x medium rocket
1 x launch pad
1 x launch ignition handset
5 x A-size rockets (2 per pack)
5 x B-size rockets (2 per pack)
Interestingly, the supplier also had a wireless ignition system that I'd never seen before. That tempted my inner geek, but the traditionalist in me won out and I went with the good ol' wires & alligator clips blue handset model – virtually identical to what I used some 25 years ago.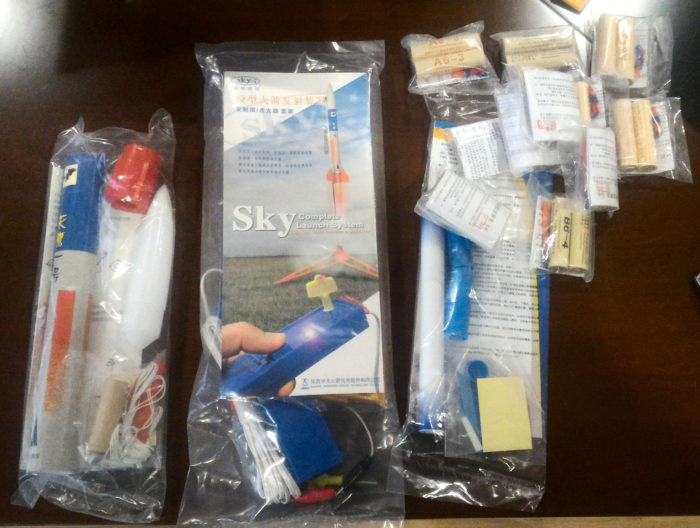 Huilin was appropriately delighted on Christmas morning when he opened all the packages, and we assembled the small rocket soon after, but then Winter here in the far northeastern reaches of China conspired against us. Only today, January 30th, did we finally have the correct combination of clear skies, no breeze, and free time necessary to kick-off the already legendary Sino-American Space Program!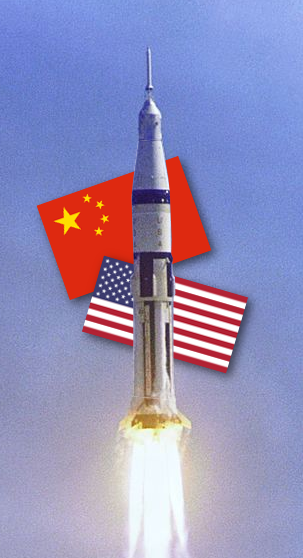 Mindful of my own childhood trauma memories, in the car on the way out to the launch field I briefed Commander Huilin on the mission contingency scenarios:
The rocket will probably blow up. That's ok. We have another one.
The rocket will probably disappear. That's ok. We have another one.
The rocket will probably get caught in the top of a tree during descent. That's ok. We have another one.
The rocket will probably fail to deploy the parachute, descend like a missile, and smash to pieces upon landing. That's ok. We have another one.
Having adequately discussed the contingencies, Huilin closed the meeting by exclaiming "I'm glad I'm not riding in a real rocket!" You and me both, kid!
Prior to first launch, we took the customary photo for an expectant media: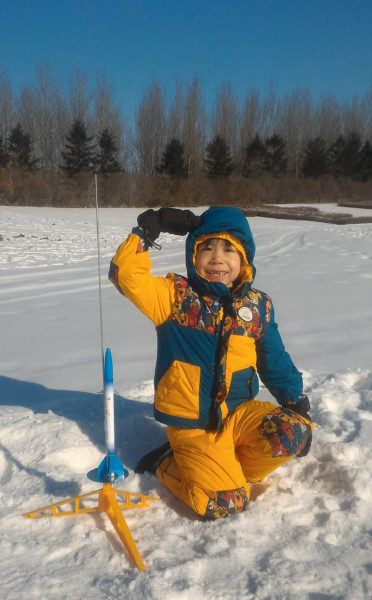 A final weather-check was made:
-10C
slight breeze out of the NE
good visibility
Then, with the world holding its breath and cameras rolling, Commander Huilin began the countdown:
During the initial launch, as per contingency scenario #4, the parachute failed to deploy and the rocket descended with exceptional speed.
Fortunately, it fell straight into a large snowbank and was retrieved with only minimal damage. Close inspection by Ground Crew Chief Daddy determined that inadequate wadding had allowed for incineration of the parachute. As a general rule, parachutes do not deploy post-incineration.
Undaunted, the remaining toasted chute nubbins were cut away, a streamer was affixed, and two subsequent successful launches were made before Commander Huilin, now exhausted from many retrieval runs through deep snow, announced that an adjournment would be made for a good rest.
All in all, the Sino-American Space Program is off to a promising start!