Late January found me wandering the San Francisco airport waiting for a flight to Toronto. We had just finished a tour of Silicon Valley and I was feeling overwhelmed by the vast amount of new projects I'd received. Casting about for something to do during the five hour flight, I absentmindedly wandered through the bookstore near my gate.
Such were the depths of my ennui, that for the first time in my life I stopped to consider the "Business" shelf.
Immediately, one cover in particular caught my eye: Getting Things Done: The Art of Stress-Free Productivity.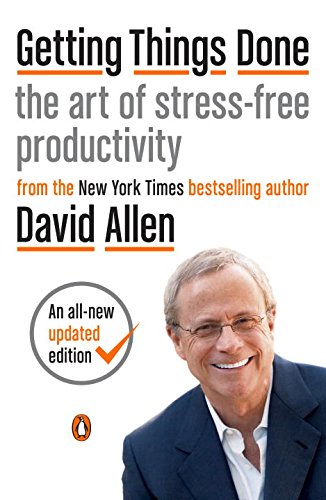 The analytical part of my mind feebly coughed and sputtered into life:
I have a lot of things that need to get done…
I am not as good at getting things done as I'd like to be…
I too would like to be more productive with less stress…
In my overwhelmed mental state, casting about as I was for anything that might help me shoulder the burden of expectations that had been placed upon me, the cover's promise was enough: stress-free productivity. I was in.
Twenty minutes later, copy in hand, I boarded my flight to Toronto, nestled down in my seat, and began reading.
It was, without hyperbole, one of the best decisions I've ever made.